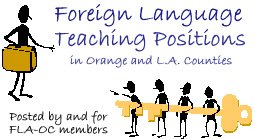 Updated regularly!
If you'd like to post an opening on this page, please send information to flaorangecounty@gmail.com.
Please include the following:
Job Title & Description (levels, schedule/time, dates, etc.)
School Name and Address
Contact Information (person and phone number/email address)
...and any other pertinent information!
Thanks!
This page consists of openings passed on to the FLA-OC Board by word-of-mouth. Please inquire at the specific school site for the most recent information. Many other sites for job searches are available, including but not limited to these:


Good luck in your search!